Durobearing™ is the trademark used by Saver to identify its self-lubricating composite bearings and represents a technologically advanced and reliable solution for journal bearings.
Durobearing™ is composed of high-performance fibres and makes use of technology and processes developed directly by Saver to attain a mass-produced product with superior performance.
Self-lubricating composite bearings were developed in the 1950s and 1960s for outer space applications. The functioning of spacecraft and satellites must be reliable and maintenance-free.
In the 1990s major manufacturers begin using self-lubricating composite bearings, as they learnt of their particular properties; Today, composite plain bearings are a standard component for manufacturers of heavy industrial equipment and machines, agricultural equipment, and pneumatic and hydraulic cylinders.
Self-lubricating composite bearings have increasingly taken the place of metal bearings needing lubrication.
Durobearing™ is ideal for high load, low speed applications or where traditional lubrication is difficult, costly or harmful.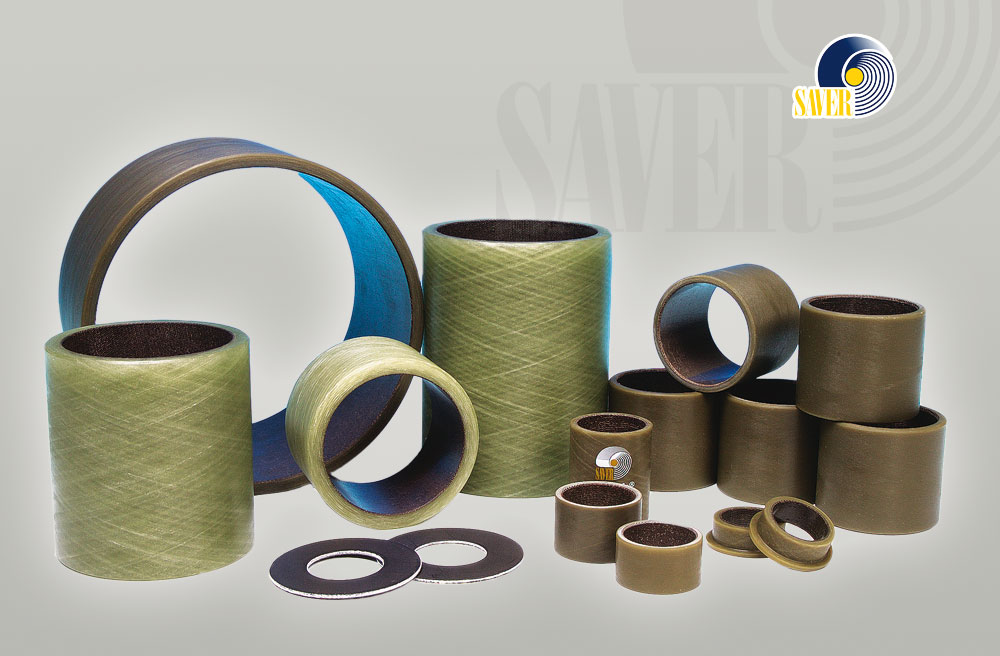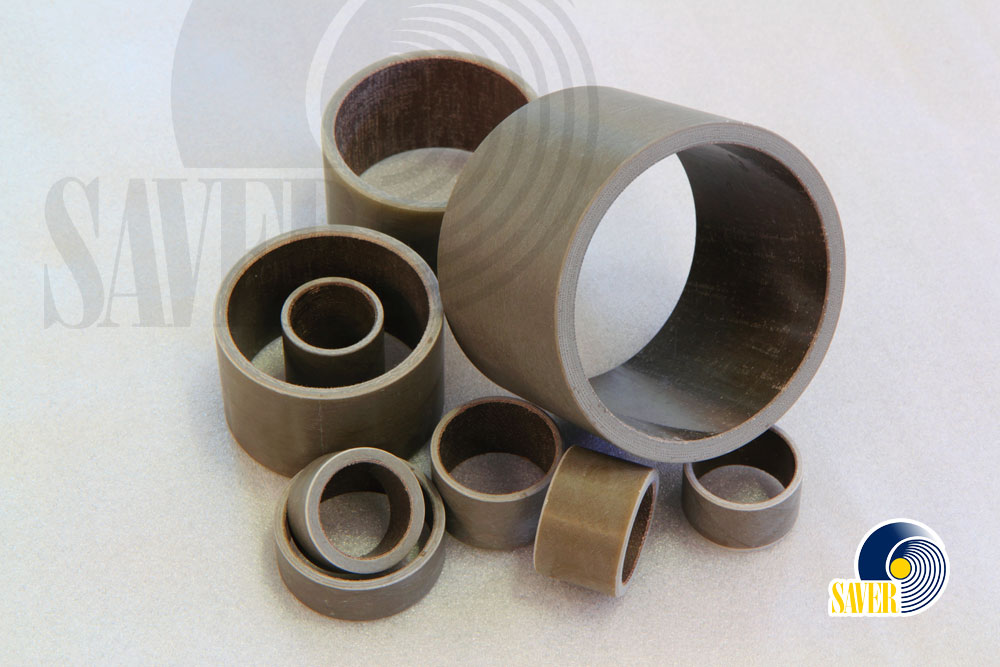 Some of the industry applications for
Durobearing™

:
Aerospace and Defense

control systems (aircraft pivot linkages, flight controls, u-joints, door systems, landing gear linkage, helicopter main and tail rotor assemblies, missile launchers, loading ramps

Agricultural

irrigation equipment, tractors and attachments, combines

Automotive

car wash machinery, suspension systems, lifting platforms and mechanical parking systems, kingpin assemblies

Chemical Processing

Communications

Energy Installations

wind farms, photovoltaics

Food Processing

General Hydraulics

hydraulic cylinders, rotary actuators

Hydro

floodgates, waste water facilities

Marine (surface and submerged vessels)

deck machinery, rudders, hoists, water-tight doors, mooring systems, lifeboat launchers

Material Handling, Construction, Forestry, Landscaping

fork lifts, aerial lifts and booms, scissor lifts, cranes, lift gates,excavating machinery, clamps & grabs, loaders

Medical

Surgical chairs and tables

Mining

Refuse Collection

Robotics
Durobearing™ is filament-wound and impregnated with thermoset resins.
This lightweight and efficient composite journal bearing features a Teflon™ liner (Teflon™ is a trademark of Du Pont de Nemour) and is characterized by a high load capability well-suited to handling frequent starts and stops. Its self-lubricating properties enable valid engineering.
Durobearing™ accommodates rotary, oscillatory and sliding motions and offers excellent reliability, including the following features and benefits:
Self-lubricating with dry lubrication

maintenance-free, eliminating the need for greasing systems
operational in inaccessible environments
appropriate for materials that must avoid contact with lubricant
environmentally-friendly
reduced operating and warranty cost
significant reduction of "systems" cost of assembly

Dimensional and thermal stability, corrosion and chemical resistant

operates in submerged conditions and hostile environments such as sea water, detergents, alcohol and acids
copes with temperature extremes permits a long shelf life
can be machined to suit precision engineering requirements (including shaped bore designs) using conventional machining methods
operates with a variety of steel shaft materials

Advanced composites material

Teflon™ liner with extremely low coefficient of friction (Teflon™ is a trademark of Du Pont de Nemour)

custom size available
low initial conversion cost
shock resistant
static and dynamic coefficients very close, eliminating "stick-slip" behavior
low wear of mating parts (shaft and housing)
reduced power demand for start-up and running of machinery
temperature kept within operation perimeters

Non-conductive and non-magnetic

can serve as insulating material
no galvanic reactions

Tight press fit and low running clearances

ease of installation—no need for retainers
low noise chatter
enhanced abrasion resistance
Our basic service starts with initial customer contact that focuses on gaining an understanding of technical and business needs, along with environment and operating conditions where the bearing will be in use.
SAVER is experienced at coordinating the functional and business requirements to provide our composite bearings in a timely manner. Our technical department is at the disposal of the customer in evaluating how to best optimize all applications also proposing tailor-made solutions. Saver's collaboration with customers does not end with the installation of the bearing but continues through a team working together with the customer to explore all possible further optimizations. SAVER has its own technological laboratories for testing, inspecting and improving the product and its performance. Specialized equipment is used to subject the composite bearings to endurance and wear tests. The testing cycles may run in continuous rotation, in oscillation or in translation mode. We go up to dynamic loads of 50,000 kg (110,230 lbs.) and continuously measure the following parameters: Applied Load — Torque — Coefficient of Friction — Wear — Temperature.
The technology and equipment at our disposal enable us to realize our Durobearing™ line according to customer requests and designs, not just in terms of non-standard diameters, but also where special shapes and bore configurations are concerned, for example:
flanged bearings on one or both sides
thrust bearings
bearings with self-lubricating external surface
bearings with self-lubricating internal and external surface
closed-end bearings
circular bearings with hexagonal or square cut-outs
especially machined bearings (internal or external turning, boring, etc.)
bearings stamped by pad-printing
large-size bearings up to 1000 mm in diameter (39.37 in.)
To complete the range of bearings for different mechanical solutions, we have developed a series of spherical self-lubricating composite bearings with a steel ball joint inserted in the composite material lining.
Using proprietary technology and the best inside liner, Saver has developed an articulated bearing with exceptional properties:
low coefficient of friction
low clearance between the spherical steel portion and the composite
highly wear resistant
self-lubricating
able to handle high loads
no "stick-slip"
low chatter
vibration absorption
may be used for continuous oscillatory and rotary motion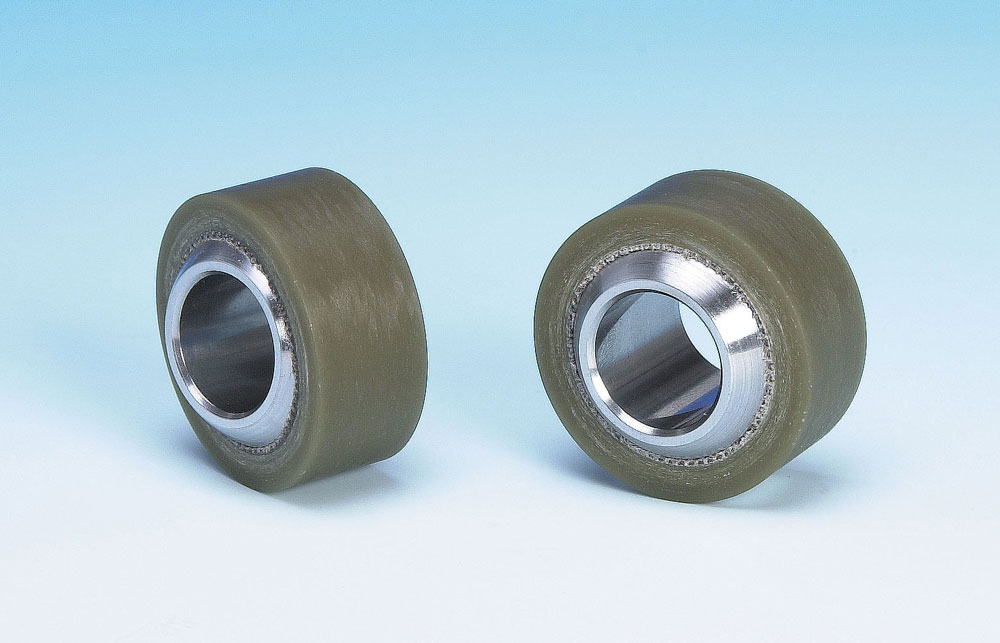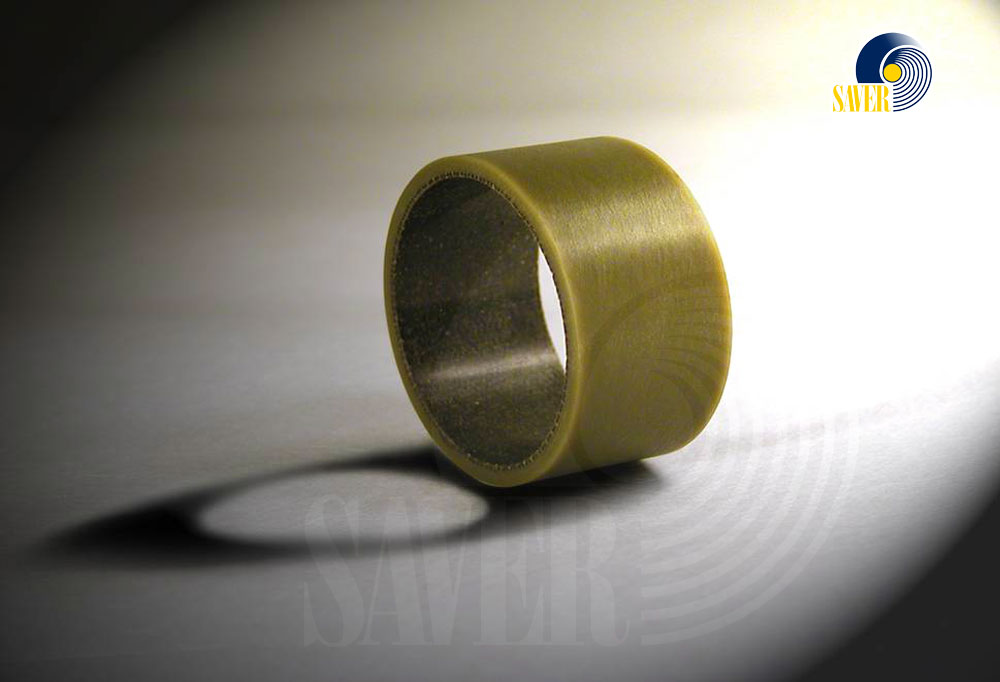 Durobearing™ ENGINEERING DATA
Ultimate Compression Strength

450 MPa

60,000 psi

Maximum Static Load

200 MPa

30,000 psi

Maximum Dynamic Load (P)

140 MPa

20,000 psi

Maximum Velocity

18 m/min

60 ft/min

Maximum Pressure & Velocity (PV)

7.5 KN/cm2 m/min

35,000 psi ft/min

Operating Temperature

-190 °C to +170 °C

-320 °F to +350 °F

Specific Gravity (Density)

1.9–2

1.9–2

Coefficient of Friction

0.1–0.4

0.1–0.4

Maximum recommended length

twice the internal diameter

Minimum recommended length

half the internal diameter
Recommended Shaft Characteristics for Optimal Performance:
Material chrome

alloy steel

Hardness

58 Rockwell C minimum

Surface Plating

chrome, chrome nitrate, electrolytic nickel, mylonite

Surface Roughness

0.2 microns
Acceptable results may also be obtained with shafts having:
Material chrome

alloy steel

Hardness

20 Rockwell C minimum

Surface Plating

chrome, chrome nitrate, electrolytic nickel, mylonite

Surface Roughness

14 microns
Maximum Loads of Various Bearing Materials
Durobearing™ has a special liner, giving it exceptional resistance to wear. Even after hundreds of thousands of cycles (with no lubricant) the condition of the bearing and shaft are still efficient. The chart below shows loss of thickness according to number of cycles. Durobearing™ contains a Teflon™ liner which offers the lowest coefficients of friction of any known fibre. Furthermore, the static coefficient of friction is hardly greater than the dynamic one, thus eliminating the phenomenon of stick-slip (see Engineering Data). With the elimination of stick-slip, Durobearing™ allows for a reduction in vibrations and the break-away torque needed to set the shaft in motion, translating into an overall improvement in precision running. Durobearing™ offers very high performance with specific materials that provide exceptional characteristics —structural robustness of the composite and a minimum coefficient of friction. It is worth noting that the coefficient of friction is lowered to a level of 0.01 with an increase in the applied load and/or temperature, as illustrated in the chart.