SAVER is able to supply composite insulators that use SF6, clean alternative gases (non-greenhouse), oil, dielectric gels, resins and polyurethane foam etc.… as insulating media.
In the generation and transmission of energy it is necessary to vary the voltage level of electricity, measure and control it, using various electrical equipment designed for several purposes.
Saver insulators are used in High Voltage electrical equipment in order to electrically insulate two metal parts having a different voltage level, to avoid short circuits that could cause interruption of the grids or damage to the electrical equipment.
The composite insulator consists of a tube that guarantees mechanical strength (FRP tube), assembled with metal flanges and covered with a silicone sheds profile which guarantees the required electrical insulation. In particular, the silicone sheds profile allows the Creepage Distance necessary to avoid discharges and protects the filament winding tubes from UV rays.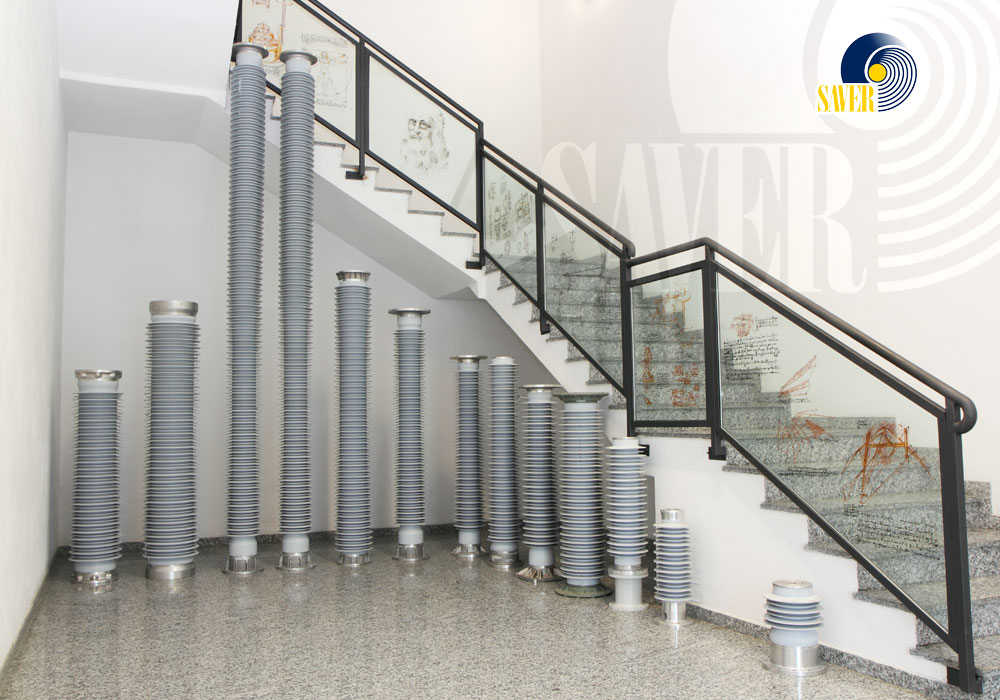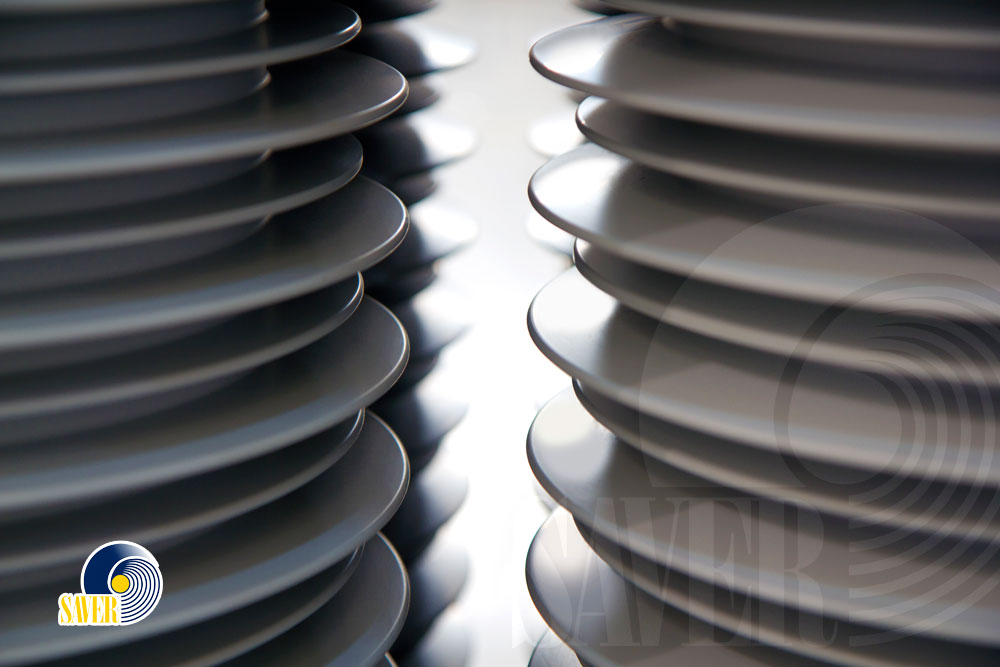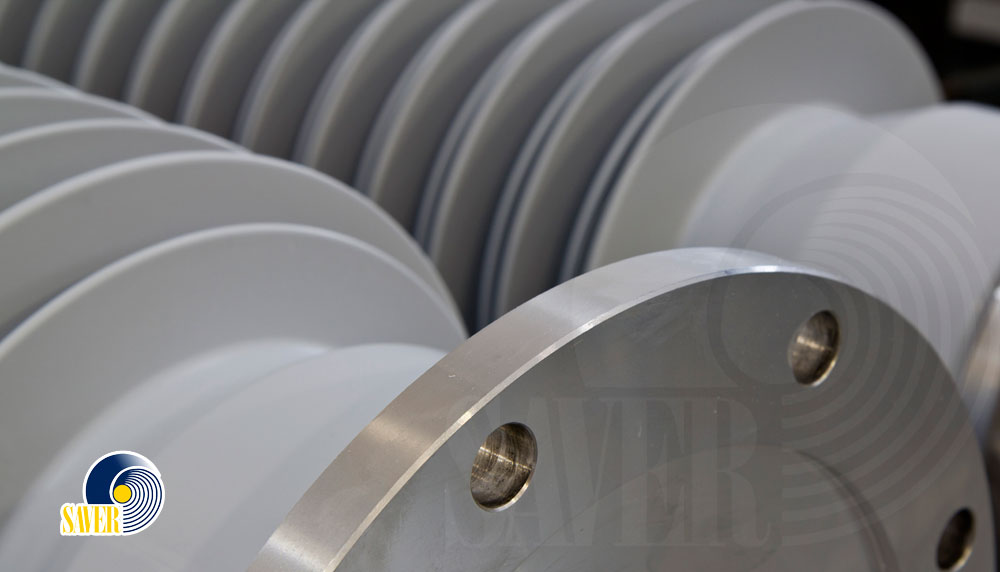 For the design of composite isolators it is important to consider:
the aforementioned insulating media
the level of pollution and the altitude of the installation area (which impact on the Creepage Distance)
the seismic level of the installation area
the minimum and maximum operating temperature
the mechanical loads to be applied and the relative safety factor
corona effect
Saver is one of the largest global manufacturers of hollow composite insulators and the only EU manufacturer to have the full vertical process integration.
In general, hollow insulators can be produced in porcelain or in composite material, the latter must have a silicon sheds profile for outdoor applications (or without silicone sheds profile inside the HV equipment or for indoor applications, usually under vacuum impregnated).
Saver is able to produce post insulators in composite material for special applications too.
Saver also uses porcelain insulators for its bushings if the specific project or the geographic area explicitly requires this technical solution instead of composite.
The design of the composite insulator from an electrical and mechanical point of view must be very careful.
Manufacturing must be carried out with the utmost care, to avoid any possible defect that may cause discharges and/or damages to the electrical equipment.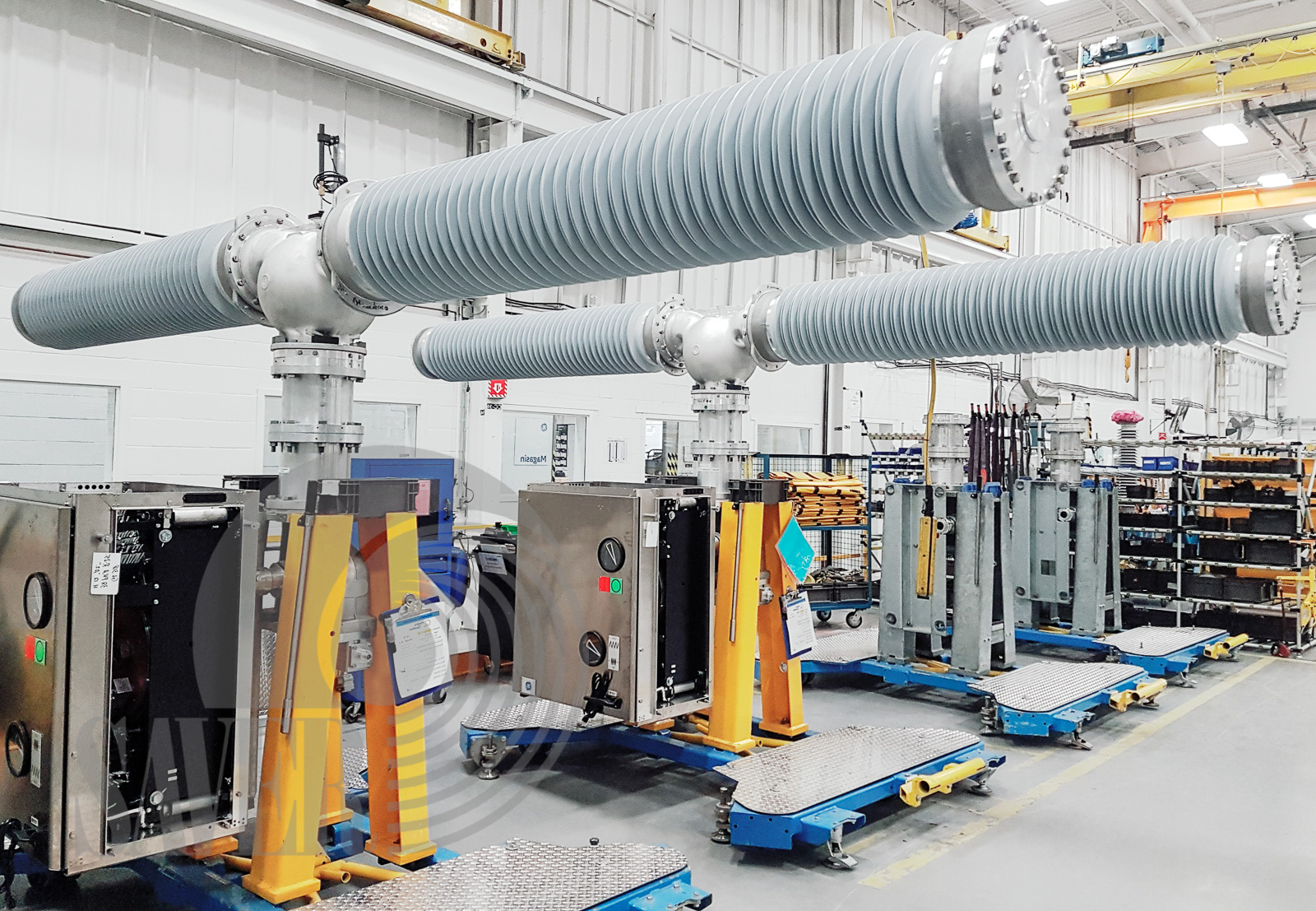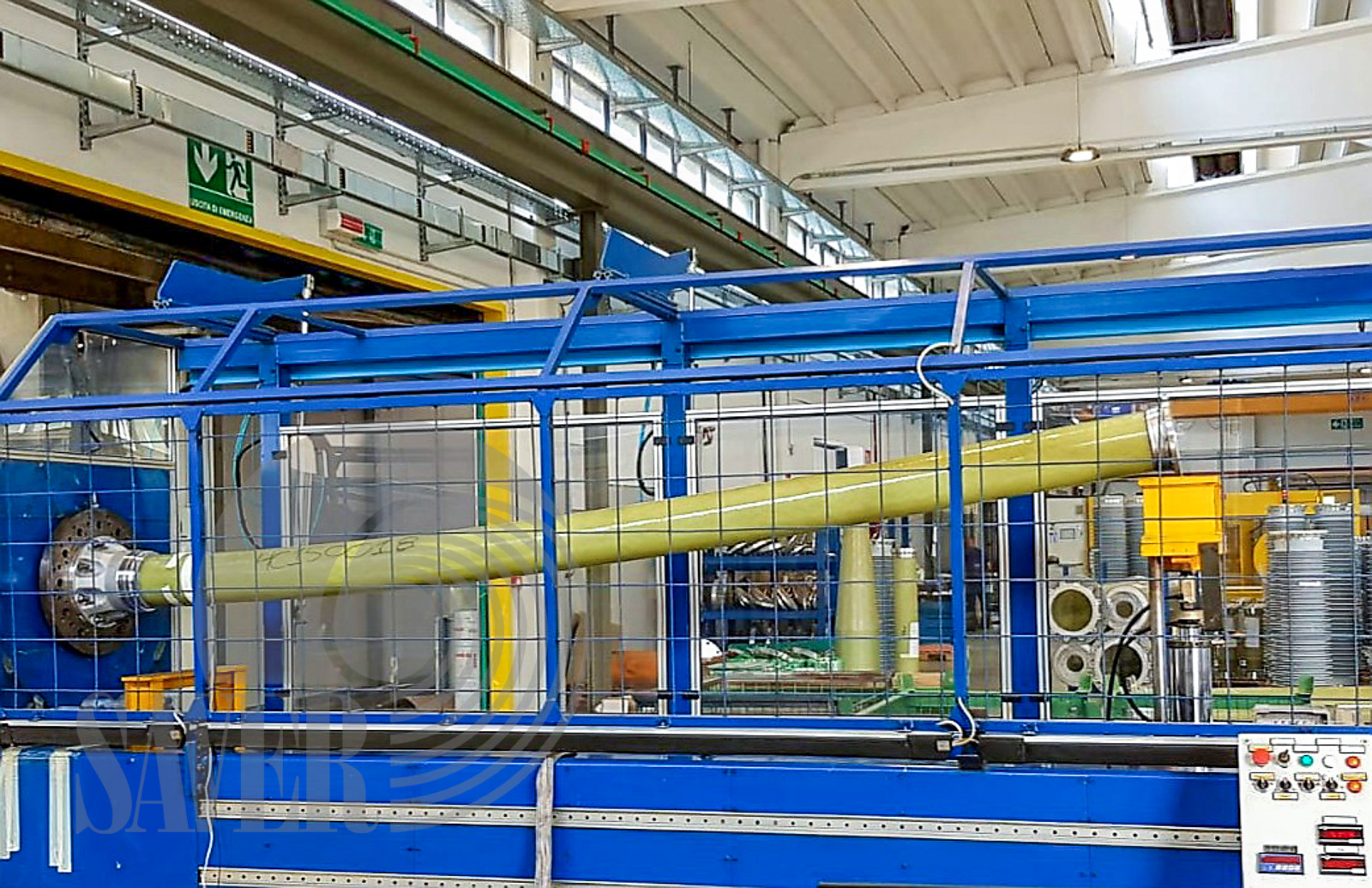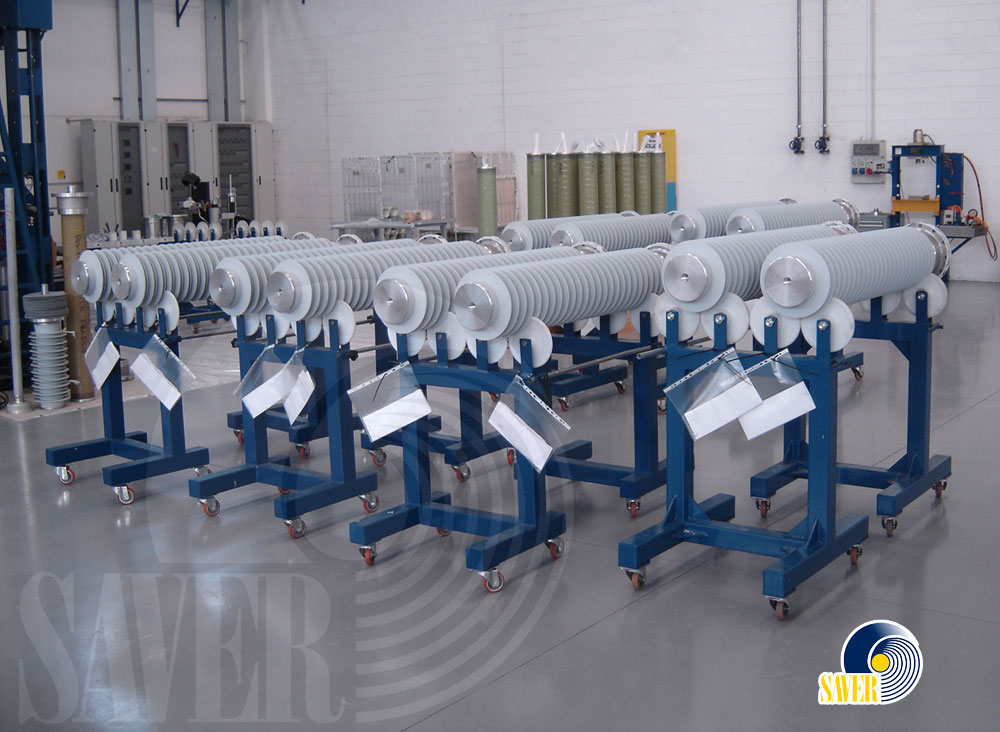 Over the last decade, composite insulators have drastically increased their market share compared to porcelain ones practically all over the world, thanks to the important advantages they guarantee:
SAFETY FOR WORKERS AND ELECTRICAL EQUIPMENT.

Composite insulators do not explode like porcelain ones neither in the presence of defects nor damages caused from the outside (e.g. earthquake, terrorism, bullets, collisions due to accidents etc.…). Porcelain is a very rigid and fragile material and can break in presence of manufacturing defects (not always possible to identify) or in the presence of strong thermal stress. For gas-insulated equipment under normal service conditions (usually the service pressure is 8-9 MPa) or for internal overpressures (above 1.2 MPa), a porcelain defect could cause an explosion with "porcelain bullets" projected over long distances. A defect or external damages to the composite insulator, on the other hand, would result in the progressive release of gas through the fibres with the consequent gradual lowering of pressure. This is a fundamental aspect, considering the usual presence of workers in the installations but also of residential homes and offices near them;

THE HIGH HYDROPHOBICITY OF LIQUID SILICONE RUBBER USED BY SAVER

which avoids cleanings or use of silicone spray coatings on site with a certain frequency (lower maintenance costs) and allows a life-time greater than 45-50 years old;

A VERY SHORT LEAD TIME TO MARKET

compared to the average lead time of porcelain insulators for High Voltage (much faster and more flexible industrial process);

A LOWER WEIGHT

compared to porcelain insulators (on average 50% less), which guarantees savings in transport costs and the possibility to design leaner electrical equipment;

COMPOSITE INSULATORS ARE LESS FRAGILE

than porcelain ones and this allows easier, faster and safer handling, assembly and installation in service; in addition, the silicon sheds profile by Saver in case of damage can be repaired on site through a simple kit and tutorial;

BETTER SEISIMIC RELIABILITY

thanks to the elasticity of the material (proven by several tests passed by Saver for anti-seismic applications);

BEST INSULATING PROPERTIES

even in very dirty operating conditions, and in extreme climatic conditions in terms of high pollution and salinity (see the PDF relating to the special tests carried out) (LINK);

DIMENSIONAL TOLERANCES OBTAINABLE WITH COMPOSITE INSULATORS ARE MUCH TIGHTER

than those obtainable with porcelain ones due to the different technological specificities;

VERY LOW HEAT TRANSFER COEFFICIENT VALUES

of both silicone and fiberglass;

EXCELLENT UV RESISTANCE

thanks to the Si-O energy bond equal to 444 kJ / mol compared to the so-called shortwave energy of sunlight (300 nm) equal to 6.2 x 10-22 kJ, equivalent to 398 kJ / mol.
In addition, there are specific advantages of composite insulators by SAVER:
USE OF THE BEST LIQUID SILICONE RUBBER (LSR)

which compared to other composite solutions (HTV):

avoids any mechanical stress on the fiberglass tube during silicon injection
does not require the addition of any filler to ensure the necessary hydrophobicity (more stable and safe process) since almost all of the formulation is pure tracking resistant silicone

INTERNAL ACCEPTABILITY CRITERIA

related to gas tightness much more stringent than those prescribed by international standards

POSSIBILITY TO PRODUCE INTEGRATED SOLUTIONS

with optical fibres and / or filling with polyurethane foam

HYDROQUEBEC APPROVED VALIDATION PROCEDURE

for operating temperature at -60 Celsius degrees

POSSIBILITY OF MEASURING PARTIAL DISCHARGES

in your HV LAB
Examples of electrical field simulation for a correct design of and insulators and its shield: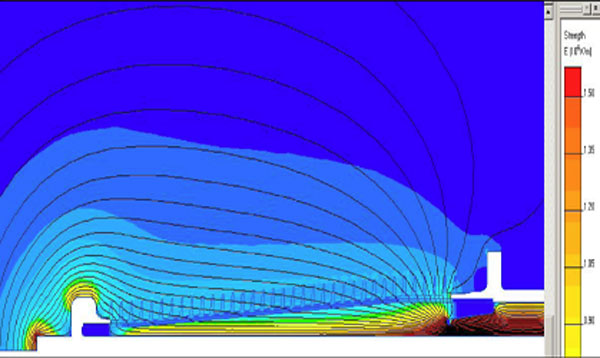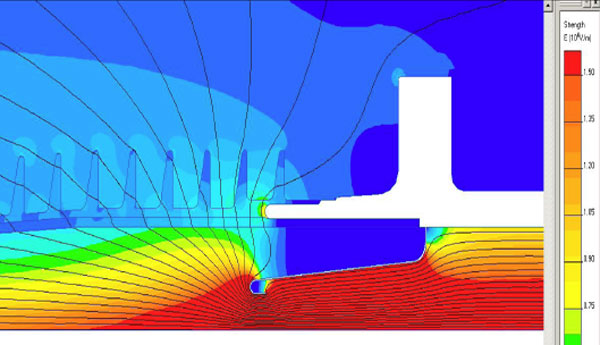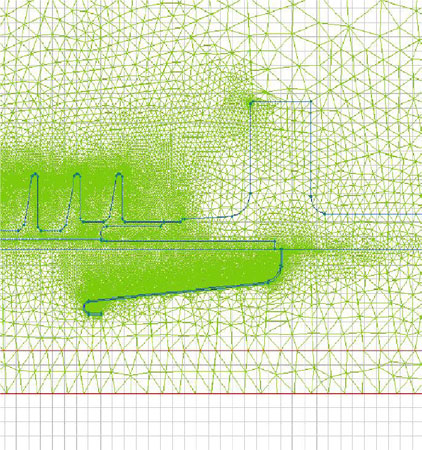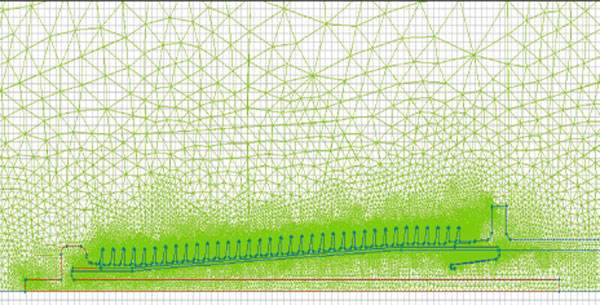 SAVER supplies the major HV OEMs all over the world, selecting only the best tested, certified and validated raw materials in order to guarantee the highest quality and long-term reliability of its insulators.
SAVER has passed all the tests required by the International Standards IEC 61462 and further tests required by the IEEE Standards.
In addition, SAVER has passed several other "special" tests that simulate ageing and stress the insulator in a much more important way than the IEC 61462 Design Tests, such as the so-called Pollution test, the 5000 hours multi-stress test, the Tracking and Erosion test in DC, Thermal ageing under internal pressure (2000 hours at Tmax under MSP), Thermal stability (10 cycles of 24 h between Tmin and Tmax under MSP) etc.…
Please click here to download the Complete list of Design Tests according to IEC61462 and special tests passed by SAVER.
Each Test Report is available upon request.
SAVER is able to perform in its internal laboratory all Type Tests, Samples Tests and Routine tests (through strain gauges) required by IEC 61462 and IEEE (for example Shed Seal test according to IEEE Std 693-2005 §A.4.4).
Furthermore, SAVER has ISPESL and SVTI approvals and defines acceptability criteria for gas tightness that are much more stringent than those defined by international standards.
SAVER insulators have been used for decades all over the world in hundreds of thousands of High Voltage equipment up to 800-1000 kV such as: